Servicing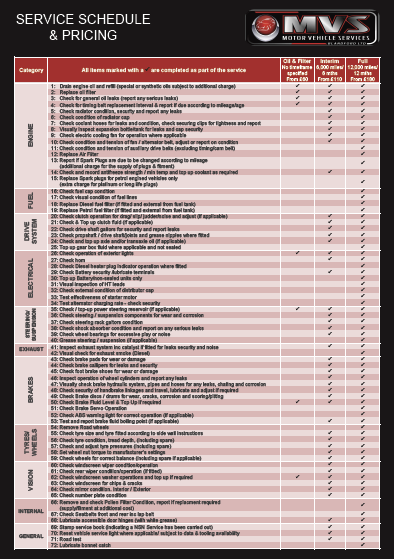 Getting a regular car service ensures that your car is safe, not just for you but for other road users too. Making sure your car is running at optimum performance also improves fuel efficiency, prolongs the life of your car and can prove to be much cheaper in the long run. A badly maintained car is unsafe, inefficient and those breakdowns will all add up to a much larger bill than regular car servicing cost.
Main dealer pricing can be up to 40% more expensive than the cost of our car servicing, even though in some cases we may cover more points on a service checklist than the dealer.
We encourage our customers to check what is covered by our Service Schedule and then compare this to your main dealer to see if you are getting the same level of service that we offer. We may also be able to book you in much sooner than a main dealer, where this is of importance.
Our garage uses the latest technology and equipment and is able to service most makes and models of car. All parts used are manufactured to Original Equipment (OE) standard and so will not invalidate your warranty. If your vehicle is still within the manufacturer's warranty period then please check that the service chosen meets the manufacturer's service schedule.
Of course, there's always the option of doing your own car service, but if you're not an experienced car mechanic, the likelihood is the work done could compromise the safety of your family and also invalidate your warranty. With modern cars relying so heavily on on-board computers, do you have all the right equipment at home to do your own car servicing? The answer is probably no. So best to contact us and we will make sure your car is serviced to the highest standard.
Please click on the image to view our detailed service schedule.